Anthony Berni, M.D.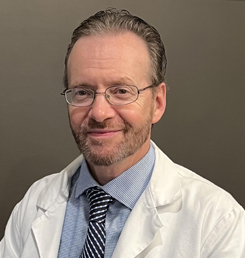 Dr. Anthony Berni was born and raised in the St. Louis area. He received a degree in mechanical engineering at the University of Michigan, where he did research at the Biomechanics, Sports & Trauma Lab. This experience inspired him to pursue the field of Orthopedics, and he returned to his home state to attend Medical School at the University of Missouri-Columbia. He graduated Cum Laude in 1993 and went on to complete his Orthopedic Surgery residency at St. Louis University Hospital in 1998. Thereafter he began practicing with Signature Orthopedics St. Charles, formerly known as St Charles Orthopedic Surgery Associates. After 25 years at that location, he enthusiastically joins his long-time friend and colleague Dr. Robert Sciortino with STL Orthopedics.
Dr. Berni is Board Certified through the American Academy of Orthopedic Surgeons. He specializes in minimally invasive surgery and outpatient joint replacements. This includes partial knee replacements and SuperPATH hip replacement surgery. SuperPATH is a less invasive, muscle and sparing technique, which allows faster recovery from total hip replacement.
He also performs an array of general orthopedic surgeries, arthroscopies, and in particular hand surgeries. Dr. Berni has been performing endoscopic carpal tunnel releases, another minimally invasive procedure, through a half-inch incision at the wrist since 1994. He remains on staff and will continue to perform outpatient surgeries at two state of the art facilities in St Charles, as well as inpatient procedures at St Luke's Hospital.
Dr. Berni was voted to St. Louis Magazine best doctors 2023.
Visit www.bernimd.com for more info.