Robert A. Sciortino, M.D.
Dr. Sciortino is a Board certified Orthopedic Surgeon who has been in practice in the St. Louis area since 1992. He is proficient in adult reconstructive and sports medicine. He specializes in Total Joint Replacement of the knee, hip, and shoulder, including minimally invasive hip replacement surgery. Dr. Sciortino is one of the few orthopedic surgeons in the area who routinely performs the minimally invasive SuperPath technique of hip replacement surgery. For more information on the SuperPath technique, click on the following link:  SUPERPATH. He is also interested in advanced arthroscopic techniques including arthroscopic rotator cuff repair.
Dr. Sciortino is a consultant for MicroPort Orthopedics, Inc., the company that developed the SuperPath technique, and he trains other orthopedic surgeons to perform this technique.  Dr. Sciortino was also selected by his peers as one of St. Louis Magazine's "Best Doctors" in 2009, 2010, 2011 and 2019.  He was also elected president of the St. Louis Orthopedic Society in 2009.
Education
High school: St. Louis Priory School
College: Stanford University
Medical school: Vanderbilt University School of Medicine
Internship: General Surgery, St. Louis University Hospital
Residency: Orthopedic Surgery, St. Louis University Hospital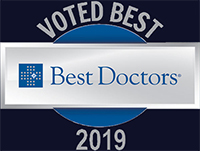 Hospital staff memberships
St. Luke's Hospital
The Total Joint Center of St. Louis
Advanced Ambulatory Surgical Care
Affiliations and Societies
Board Certified, American Board of Orthopedic Surgery
Fellow, American Academy of Orthopedic Surgeons
Fellow, American College of Surgeons
Member, St. Louis Orthopedic Society
Member, Missouri State Orthopedic Society
Member, St. Louis Metropolitan Medical Society
Member, Missouri State Medical Association